Don't say BYRRH, say BE-HERE! The former distribution centre of the renowned French aperitif BYRRH, which was abandoned for several decades, has been completely renovated to open up to the neighborhood and to become what the inhabitants have been longing for: an organic market and a hub for artistic workshops and sustainable production. In short, "the place to be" for those who are looking for a place in Laeken that is similar to Ateliers des Tanneurs. The "Tanneurs" are in fact behind the management of BE-HERE and hope that the new organic market attracts as many people as his older brother in the Marolles.
In addition to the organic market, which opens its doors on May 14, BE-HERE will host a purchasing centre, a social enterprise, a brewery … and many other projects related to food,  but also cultural production and different services for residents of the area.
The general public will be able to discover these workshops and the organic market during the official opening party on May 19, during which several activities will be proposed: zero waste cooking workshops for the whole family, foodtrucks, juggling initiations, a bookswap, a kids corner and musical entertainment.
Very soon, neighbors and friends will be able to meet in the big hall under the glass roof in BE-HERE to shop at the organic market, or to discover new products or even taste the local productions.
What are you waiting for? Be here at BE-HERE!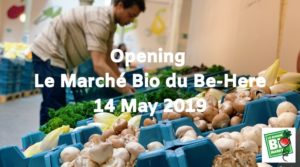 May 14, 11-19 hrs: Opening of the organic market
May 19, 11-16 hrs: Festive opening with workshops and animations
More information:
A visit to BYRRH at the 2018 Heritage Days